Main content starts here, tab to start navigating
Taste Of Treadwell Package • 30PP
(minimum 4 guests) | Served Family Style
Giant Soft Pretzel

Smoked Crispy Wings

Chips & Guacamole

Truffle Fries

Smoked Pork Nachos

House Smoked Pork, Brisket & Jerk Chicken Sliders
Weekday Happy Hour
Beer • 6

Select 16oz Drafts or 12oz Bottles

Wine • 8

Red, White

Rosé • 9

Cocktails • 9

Apps • 10 Each

Popcorn Shrimp; Chips & Dip; Artichoke Dip

5L Mini Kegs • 65

serves 10 pints
---
FLIGHTS
CREATE YOUR OWN FLIGHT
4oz pours available of all 20 draughts
---
Mini Keg 5L • 75
Bitburger, Pilsner, 4.8%
Reissdorf, Kölsch 5%
---
FLIGHTS
CREATE YOUR OWN FLIGHT
4oz pours available of all 20 draughts
---
Mini Keg 5L • 75
Bitburger, Pilsner, 4.8%
Reissdorf, Kölsch 5%
Kitchen
Small Plates
Bar Bites • 8

hot pickled okra, tamari toasted almonds, house marinated olives

tree nut, peanut free, vegetarian, vegan

Crispy Sweet Potato Fries • 11

garlic-red pepper aioli dip

Popcorn Shrimp • 14

pickled vegetables, rocoto chili aioli, lemon

Truffle Fries • 14

Parmesan; black pepper aioli

Crispy Zucchini Shoestring Fries • 14

parmesan & lemon

vegetarian

Creamy Artichoke Dip • 16

artichoke heart, spinach, Romano, Gruyère, sharp white cheddar; crispy pita chips

vegetarian

Crispy Calamari* • 16

cherry peppers; spicy marinara sauce, lemon aioli

Guacamole • 16

jalapeño, cilantro, tomato, tortilla chips

gluten free, vegetarian

Wagyu Pigs In A Blanket • 16

horseradish mustard sauce, spicy ketchup

Sweet & Sour Crispy Cauliflower • 16

tangy-sweet chili sauce, sesame

Beer Mac & Cheese • 17

mini macaroni, wheat beer, aged cheddar, Parmesan, Gruyère, Fontina, golden breadcrumbs, parsley
add bacon 4 | add crawfish tails 6

Smoked Crispy Wings • 19

smoked in-house; horseradish cream

Fry Flight • 19

Yukon Gold shoestring fries, Parmesan-black pepper mayo
sweet potato fries, poblano pepper-queso
Yukon Gold shoestring fries, black truffle aioli

Half Rack Niman Ranch Ribs • 20

BBQ sauce, house-made pickles

gluten free

Loaded Potato Chips • 20

aged cheddar, candied bacon bits, sour cream, scallions

Smoked Pork Nachos • 22

smoked in-house, pepper jack, ancho chili salsa, guacamole, jalapeño, cilantro

Giant Soft Pretzel • 24

- select: salt or everything spice -
Austrian pimento cheese dip, horseradish mustard, Radeberger cheese sauce

Crispy Fish Tacos • (3) 24

Adobo roasted cod, cabbage, roasted pineapple-serrano chile salsa, radish, micro cilantro
Salads
TWP green salad • 12

spring mix, heirloom baby tomato, cucumber, apple cider vinaigrette

gluten free, vegetarian, vegan

Original • 16

romaine hearts, cherry tomato, avocado, grilled corn, black beans, cheddar, crispy onions, buttermilk ranch dressing

TWP Caesar Salad • 17

romaine hearts, grilled corn, cotija cheese, crunchy tortilla strips, citrus Caesar dressing

Sweet & Spicy Pan-Fried Eggplant • 18

roasted acorn squash, candied pecans, whipped feta, crispy shallots, sesame balsamic vinaigrette

tree nut, gluten free, vegetarian

Add to Any Salad

grilled chicken $5

Atlantic salmon $9

blackened shrimp $8

skirt steak $10
Mains
Grilled Summer Vegetables • 18

basil-balsamic marinated zucchini, eggplant, portobello mushroom, tomato, feta, red pepper coulis, crispy onions

Everything Jambalaya • 22

traditional SPICY Louisiana style: smoked sausage, chicken, shrimp, brown rice

Lemon Chicken* • 24

lemon butter sauce; roasted vegetables OR crispy potato wedges

TWP Bratwurst Sampler Skewers • 24

Schaller & Weber's brat, knack & smoked, pretzel bun; summer vegetables, warm bacon-potato salad

Fish & Chips • 26

malt vinegar, Sriracha mayo; mixed greens

Pan-roasted Salmon • 27

orange-miso glaze; spring pea and beet pure, sauteed snow peas

gluten free

Grilled Flat Iron Steak • 32

three pepper rubbed 10oz steak, rosemary-garlic maître de hotel butter; roasted broccolini
Fun in the bun
Twp Junior* • 10

4 oz. Pat La Frieda beef blend, American cheese, lettuce & tomato, Sriracha mayo, potato roll

add fries $3

The Chef's Burger* • 18

8oz Pat La Frieda beef blend, herbed grilled red onion, candied bacon, fontina cheese, lettuce, pickles, tomato, black pepper aioli, brioche bun; fries

add on topping, each $1

House Smoked Pork, Brisket & Jerk Chicken Sliders • 18

cheese, caramelized onions, BBQ sauce, not-secret sauce, mini-brioche buns
Sides
Roasted Garlic Mashed Potatoes • 7

gluten free

Warm Potato Salad With Bacon • 7

with bacon

gluten free

French Fries • 8

vegetarian

Grilled Vegetables • 12

gluten free, vegetarian, vegan

Roasted Broccolini • 12

gluten free, vegetarian, vegan
Desserts
Vanilla Ice Cream or Dulce de Leche Ice Cream • 10

Root Beer Float • 10

Fudgy Brownie Sundae • 10

vanilla ice cream, Hershey's chocolate sauce whipped cream, cherry

tree nut, vegetarian

Junior's NY Cheesecake • 12

house-made Lindeman's framboise Lambic compote

tree nut, vegetarian

Lemon Meringue Tart • 13

Butter short crust pastry, Sicilian lemon cream, Italian meringue
20% gratuity is added to parties of 6 or more
*consuming raw or undercooked meats, poultry, seafood, shellfish or eggs may increase your risk of foodborne illness
GO BIG! BUILD YOUR OWN "French Toast" Board
a feast for your eyes as well as your belly
bananas, fresh berries, Lindeman's Framboise Lambic compote, Nutella, chocolate chips, toasted almonds, smoked bacon, beef sausage, chicken sausage, maple syrup
PLATES
Seasonal Fruit Salad • 14

House-Made Mini Cheddar-Chive Biscuits • (3) 15

Red Jacket Orchards strawberry jam, local clarifi ed butter

TWP Avocado Toast • 16

chopped avocado, heirloom tomato, basil, cilantro, parsley, crushed red pepper
add poached eggs 5
go grand with butter poached lobster 14

Eggs Benedict* • 17

2 poached eggs, Westphalian ham, Hollandaise sauce; mixed greens
substitute smoked salmon 4

Bacon & Cheddar Omelet • 17

5 Spoke Creamery sharp white cheddar, Schaller & Weber bacon; hash browns

Herbed Goat Cheese & Spinach Omelet • 18

3 eggs, scallion; toasted sourdough, hash browns

Orange Blossom Nutella Crepes • 18

banana, toasted almonds, honey

TWP Signature French Toast • 18

caramelized bananas, house-made Lindeman's Framboise Lambic compote, maple syrup
add 2 scrambled eggs or sliced avocado 4
add fresh berries 6

Egg, Bacon & Avocado Sandwich • 18

fontina, jalapeño, grilled onions, Sriracha mayo, brioche bun; fries

Marble Rye Lox • 18

Catsmo smoked salmon, Jersey tomato, house-made chive cream cheese, onion, capers

Breakfast Chilaquiles • 18

scrambled eggs, queso fresco crumbs, chile costeno, corn tortillas, onion, sour cream, guajillo sauce, sesame seeds

Chef's Brunch Burger* • 20

8oz Pat La Frieda beef blend, fried egg, herbed grilled red onion, candied bacon, fontina, lettuce, tomato, pickles, black pepper aioli, brioche bun; fries

Hangover Cure Platter • 21

2 eggs any style, grilled heirloom tomato, avocado, Schaller & Weber bacon, Mike's hot honey, toasted country bread

Chicken & Waffles • 22

southern style crispy chicken, Belgian
FOR THE TABLE
Creamy Artichoke Dip • 16 (add crudité 4)

artichoke heart, spinach, Romano, Gruyère, sharp white cheddar; crispy pita chips

Guacamole • 16 (add crudité 4)

jalapeño, cilantro, tomato, onion; tortilla chips

Crispy Calamari* • 16

cherry peppers; spicy marinara sauce, lemon aioli

Ricotta Dip • 18

Mike's Hot Honey; grilled sourdough, fresh fi gs, apricots, candied pecans, grilled sourdough

Smoked Crispy Wings • 19

smoked in-house; horseradish cream

Smoked Pork Nachos • 22

smoked in-house; pepper jack, ancho chili salsa, guacamole, jalapeño, cilantro

Giant Soft Pretzel • 24

Salt or Everything Spice
Austrian pimento cheese dip, Nutella, horseradish mustard, Radeberger cheese sauce
YOUNGSTERS
Mini Waffles, Fresh Berries & Maple Syrup • 12

Classic Mac & Cheese • 13

Nutella & Strawberry Panini • 14

tater tots

Scrambled Eggs & Cheese, Bacon • 14

tater tots
À LA Carte
Seasonal Fruit • 6

Tater Tots • 8

Applewood Smoked Bacon • 8

House-Made Hash Browns • 8
Wine & Cocktails
Cocktails
Re-Release • 15

Tito's vodka, Ramazzotti Rosato, hibiscus, lemon, Prosecco

Belgian & Tonic • 15

Clover handcrafted gin, Fever Tree light tonic

Rye of the Tiger • 15

Rittenhouse rye, Cointreau, pineapple, grapefruit, tart cherry

Cool Rummings • 15

Plantation 3 Star, Plantation OFTD, Pierre Ferrand orange curacao, pineapple, passionfruit, lime

Garden Variety • 16

Botanist gin, Chinola, Green Chartreuse, cucumber, pineapple, lime, white grape

American Duchesse • 16

Sagamore rye, Lustau PX sherry, chai, lemon

La Cascada • 18

Espolon reposado tequila, Del Maguey Vida mezcal, Curacao, grapefruit, lime, cinnamon simple, hopped grapefruit bitters

dry, agave, caramelized grapefruit

*Our signature cocktails are inspired by the flavor profiles of some of our favorite beer styles - enjoy!
Brunch Cocktails
TWP Bloody Mary • 13

vodka, signature mix, TWP hot sauce, lemon

bye bye hangover

Treadwell Bloody Maria • 15

tequila, mezcal, signature mix, South American hot sauce blend, house-pickled veggies, lime

adios resaca

Mmmm-Mosa • 13

Prosecco, Cointreau, orange juice

a little glass of sunshine

Cold Brew-Tini • 14

Tito's vodka, Mr. Black coffee liqueur, cold brew espresso

espress yourself

French 62 • 15

Empress 1908 Gin, Mathilde peche liqueur, lemon, Prosecco

our purple-hued take on a classic

Make It Blue • 15

Espolon tequila, blue Curaçao, lime, Prosecco

good things come in blue packages

Bubbles Flight • 48

Mmmm-Mosa, French 62, Re-Release, Make It Blue

a full rainbow of bubbles!

*a portion of the proceeds go to the Stonewall Inn Gives Back Initiative

Rosé Colored Glasses • 68

Santa Teresa Solera rum, Lillet Blanc, pineapple, cranberry, rosé; silly straw glasses
*Shared cocktail, 2 liters, serves 4-6

for those that see the silly side of life
Sparkling Wine
Val D'Oca Prosecco

d.o.c, italy

Glass $12

Bottle $48
Rose
Vie Vité Cotes De Provence

France

Glass $12

Bottle $48
White Wine
Bianchello (Beyon-kello)

Claudio Morelli, Marche, Italy 2018

Glass $12

Bottle $48

White Bordeaux

Chateau de Freynelle, France 2019

Glass $12

Bottle $48

Chardonnay

Les Charmes, Macon-Lugny, FR 2017

Glass $14

Bottle $56
Red
Malbec

Santa Julia, Mendoza, Argentina 2019

Glass $12

Bottle $48

Pinot Noir

SLH, Santa Lucia Highlands, California 2017

Glass $13

Bottle $52

Bordeaux

Chateau Auguste, Bordeaux, France 2014

Glass $15

Bottle $60
Power Couples
KANPAI • 22

Suntory Toki Japanese Whiskey + Hitachino Red Rice Ale

BAVARIAN DAIQUIRI • 22

Downtown: Plantation 3 Stars Rum + Troegs Dreamweaver Hefeweizen Uptown: Plantation 3 Stars Rum + Andechs Weissbier Hell

RACKHOUSE • 22

Basil Hayden's Bourbon + Kentucky Bourbon Barrel Ale

OAXACANATOR • 22

Del Maguey Chichicapa Mezcal + Ayinger Celebrator Doppelbock

OPPOSITES ATTRACT • 22

Glenlivet 12 Single Malt Scotch + Allagash White Witbier
Non-Alcoholic Beverages
Lemonade • 4

Juice • 4

Orange, Grapefruit, Cranberry

Fever Tree • 4

Distillers Cola, Ginger Beer, Club Soda, Indian Tonic

Soda • 4

Pepsi, Diet Pepsi, Sierra Mist, Orange Fanta, Ginger Ale

Bottled Water • 7

Acuqua Panna, San Pellegrino
Below is a sample of some of our popular food and beverage packages at Treadwell Park.
Looking for something custom? Contact us directly and our events team is more than happy to work with you to customize something to fit your needs!
Please fill out the event form and a member of our events team will get back to you within 24 hours.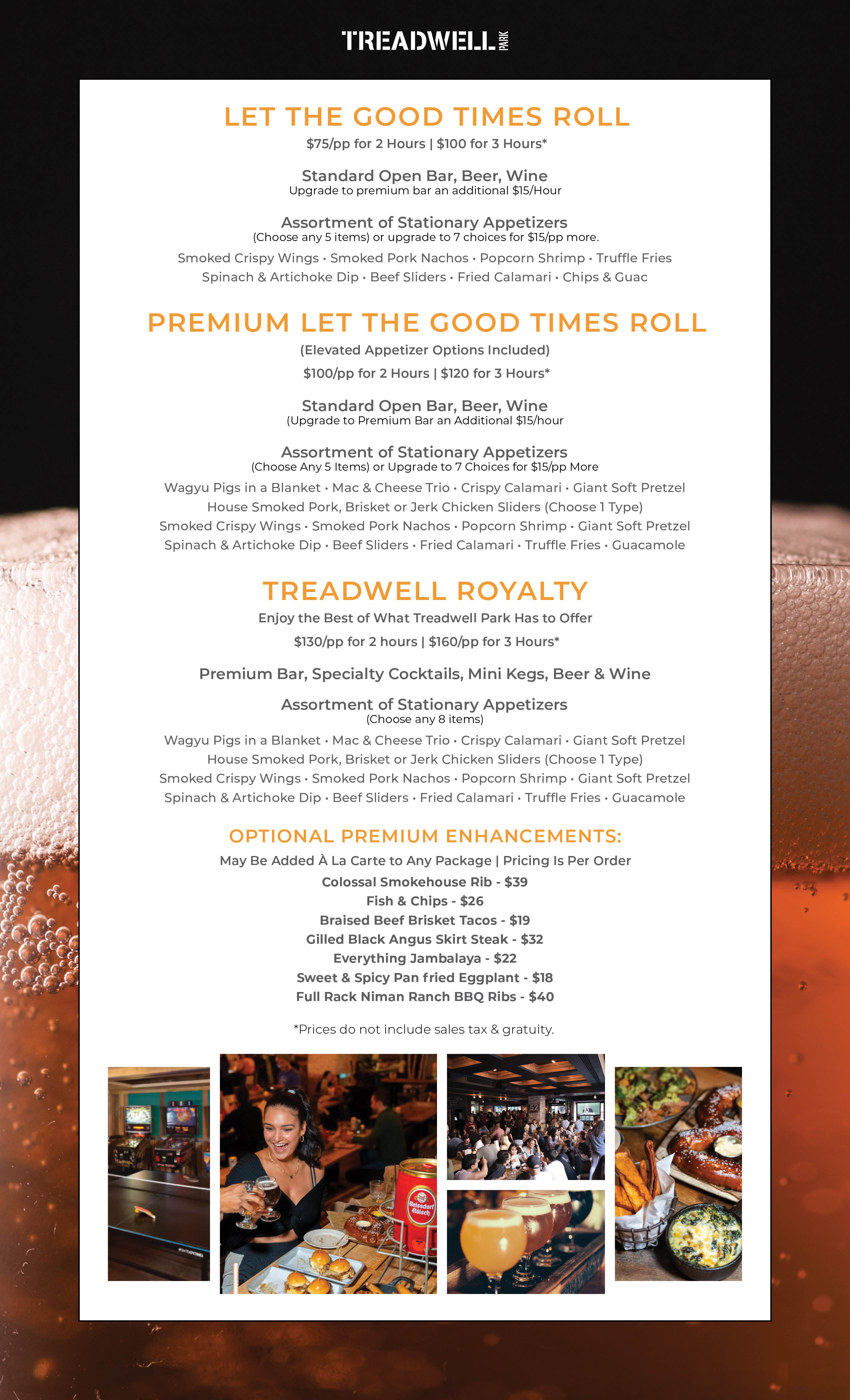 Bring The TWP Experience Home!
Game Night • 48
Bar Bites

tamari almonds, house marinated olives, pickled okra

Giant Pretzel

served with pimento cheese and mustard

Your Choice of Appetizers (select 2)

• Popcorn Shrimp (pickled vegetables, rocoto chili aioli, lemon)
• Crispy Calamari (cherry peppers, spicy marinara sauce, lemon aioli)
• Guacamole (jalapeno, cilantro, tomato, tortilla chips)
• Smoked Crispy Wings (smoked in-house, horseradish cream)
• Creamy Artichoke Dip (artichoke heart, spinach, Romano, Gruyere, sharp white cheddar; crispy pita chips)

Homemade Chocolate Chip Cookies

Rules & Regs for 4 Classic Throwback Games

Deck of Cards

Add Additional Board Game For $15

• Taboo
• Jenga
• Yahtzee
Movie Night • 44
Your Choice of Appetizers (select 3)

• Popcorn Shrimp (pickled vegetables, rocoto chili aioli, lemon)
• Crispy Calamari (cherry peppers, spicy marinara sauce, lemon aioli)
• Guacamole (jalapeno, cilantro, tomato, tortilla chips)
• Smoked Crispy Wings (smoked in-house, horseradish cream)
• Creamy Artichoke Dip (artichoke heart, spinach, Romano, Gruyere, sharp white cheddar; crispy pita chips)

Specialty bag TWP popcorn

2 Boxes Movie Theater-Style Candy
Date Night • 90
Your Choice of Salad (select 1)

• Kale (honey crisp apples, toasted walnuts, balsamic vinaigrette)
• Original (romaine hearts, ripe cherry tomatoes, avocado, grilled corn, black beans, cheddar, crispy onions, buttermilk ranch dressing
• Warm Farro & Kale (roasted sweet potatoes, beets, cauliflower, pepitas, lemon-tarragon vinaigrette
• Avocado Quinoa (field greens, hard-boiled egg, grape tomatoes, beets, lentils, pumpkin seeds, apple cider vinaigrette)

Your Choice of Appetizers (select 1)

• Popcorn Shrimp (pickled vegetables, rocoto chili aioli, lemon)
• Crispy Calamari (cherry peppers, spicy marinara sauce, lemon aioli)
• Guacamole (jalapeno, cilantro, tomato, tortilla chips)
• Smoked Crispy Wings (smoked in-house, horseradish cream)
• Creamy Artichoke Dip (artichoke heart, spinach, Romano, Gruyere, sharp white cheddar; crispy pita chips)

Your Choice of Entrees (select 2)

• Miso-Glazed Salmon (Faroe island salmon, fava beans, corn, zucchini, edamame, mache leaves, blistered cherry tomato, basil sauce)
• Lemon Chicken (lemon butter sauce, roasted root vegetables OR crispy potato wedges)
• Mojo Marinated Skirt Steak (chimichurri sauce, grilled asparagus, roasted fingerling potatoes)
• Short Rib Pumpkin Ravioli* (beef short ribs, shitake mushrooms, brussels sprouts, pepitas, shaved parmesan, sage cream sauce, sauteed green beans)

*Can Be Made Vegetarian

Your Choice of Beer/Wine (select 1)

• Bottle of Malbec (red)
• Bottle of Bianchello (white)
• 4 pack craft beer (IPA | Pilsner | Wheat Beer | Stout)

Also Included in Your Package

• 2 Candles
• Serving Plates (no clean up on date night)
• Homemade Chocolate Chip Cookies
Entertaining/Heat & Serve Menu
Chef-assembled Cheese Plate • 20

includes: French double crème brie, aged gouda, fresh goat cheese, orange blossom honey, dates, almonds, crispy water crackers

Chef-assembled Charcuterie Plate • 24

includes: prosciutto, finocchiona, spicy Spanish chorizo, Meditteranean olives, fig jam, grapes, rosemary-olive crisps

Chef-assembled Cheese/Charcuterie Combo Plate • 30

includes: prosciutto, finocchiona, spicy Spanish chorizo, French double creme brie, aged gouda, fresh goat cheese, Meditteranean olives, grapes, fig jam, orange blossom honey, rosemary-olive crisps
*Request eco-friendly serving plates and utensils

Heat & Serve "Everything" Jambalaya (serves 4-6) • 35

includes: 32oz container of jambalaya, heating/serving instructions
*Request eco-friendly serving plates and utensils
Treadwell Park Marketplace
TWP Housemade Signature BBQ Sauce • 5

8oz bottle

Sriracha Mayo • 5

8oz bottle

Housemade Beer-Braised Sauerkraut • 5

one pint

Austrian Pimento Cheese Dip • 5

8oz

TWP T-shirt • 20

TWP Comfy Hoodies • 35

Deck Playing Cards • 5

Jigsaw Puzzle • 20

TWP Keychain Bottle Opener • 3

Treadwell Bark • Complimentary

treat for your 4 legged family member
Beer & Booze Corner
Cicerone-curated 6 packs
Exploring Belgium • 60

6 unique, hand-selected beers to see for yourself why Belgian beer (and its culture) is recognized by the UNESCO World Heritage foundation as a true treasure 🍻
*includes a custom TWP bottle opener

Uniquely German • 30

6 very distinct and completely different German beer styles- all of which adhere to Germany's famous Purity Law, the Reinheitsgebot 🍻
*includes a custom TWP bottle opener

World traveler • 50

No passport necessary for this adventure- includes 6 beers from 6 different countries, each delicious in their own distinct way 🍻
*includes a custom TWP bottle opener

Mixed Bag • 30

Essentially a "Beer 101" journey- featuring 6 unique beer styles: pale lager, IPA, wheat beer, sour ale, stout, and "wild card"- the perfect way to dive a little deeper into the world of great beer
*includes a custom TWP bottle opener
Wine Wine Wine
Prosecco • 30

Rosé • 30

Bianchello • 30

white

Malbec • 30

red
Mixers & Such
4 Pack Fever-Tree Ginger Beer $6
4 Pack Fever Tree Madagascan Cola $6
4 Pack Fever Tree Indian Tonic $6
4 pack Fever-Tree Seltzer $6
750mL Pelligrino $7
Limes/lemons $1